Amphy Revolutionizes E-Learning With a New Way to Browse
Amphy once again revolutionizes how we book online with their new feature: mobile 'Story View'. Users can now enjoy the full-screen, infinite scroll functionality popularized by social media apps while browsing Amphy's thousands of live courses, experiences and events.
The page consists of short video trailers of live & interactive online courses, experiences, and events. On your mobile phone, you can scroll through the trailers by swiping up and down with your finger. When you find a session that interests you, simply click the "book now" button to be taken straight to the checkout.
"We were tired of seeing the same thing in every online marketplace." says Kovi Fine, Amphy's General Manager. "Amphy is a young and forward-thinking company. Naturally, our website is constantly innovating and revolutionizing the way it's used as well. We are proudly the first e-learning or online marketplace with easy full-screen browsing. We thought if it works so well for TikTok, it will work even better for us".
Why Amphy Fullscreen is Disrupting the Market
Never before have you seen a marketplace platform with a "Story View" layout. First seen on TikTok's "For You" page, the vertical swipe design combined with fullscreen graphics is a user favorite. 
After the success that the infinite scroll "For You" page brought to TikTok, many social apps such as Instagram and Youtube adopted the layout. It works amazingly for these social media brands but it has never before been used for e-learning. Amphy took this user-friendly, mobile-first trend and applied it on their platform to make it even easier for their users to book sessions they love.
The layout stimulates the mind and eyes for just long enough to hold the attention of the average user. This streamlines the decision-making process by cutting out the extra effort the user requires for reading descriptions and navigating the browser. Now they can get all the information needed to make a purchase decision in a matter of seconds.
Future Implications of this Innovation
Amphy's goal in creating this feature is to create a more user-friendly shopping experience. The Amphy experience doesn't start and stop with the live video sessions. Every step along the way, from browsing, booking, and chatting with your teacher, matters. 
"We have already seen an increase in engagement time, transactions, a lower bounce rate, and higher overall user satisfaction. Everyone hates bad website design." said David Moed, Product Lead at Amphy. Shockingly, only 1% of users say they are always satisfied with e-learning websites. 52% of users said the main reason for not returning to a website is its poor aesthetic.  
The mobile "Story View" is designed to accommodate Amphy's tech-savvy audience. By providing them with a fun way to browse, users will gain a better idea of what's available on Amphy and book sessions faster.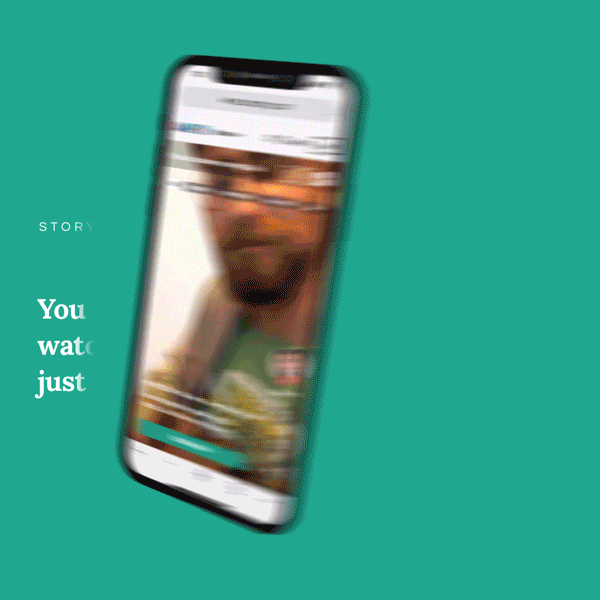 With this update, Amphy once again brings cutting-edge technology and innovation to the world of education. Never settling for what works and always striving to provide the best product possible, Amphy sets themselves apart from the competition. Try the 'Story View' for yourself by visiting amphy.com from your phone.
Other Related Developments from Around the Industry
Amphy Launches Blog: Don't Stop Discovering When Life Stops Teaching
Amphy launched a brand new blog this year. Students, hobbyists, and remote workers could find a variety of content on the blog. The website aims to provide valuable industry insights to its growing audience.
A live session can be scheduled at a specific time with Amphy. While you're waiting for class to start, you can enjoy the blog.
Private: Online Tutoring Innovator 'AmazingTalker' secures $15.5m in Series A Funding
In order to cater to the needs of its 8,500 customers and 170 million users, Odilo, a white label E-Learning platform, has raised $64 million. E-learning investors and corporate players are sure to be attracted to Odilo's most recent funding series.
Top Team Building Activities
BINGO: Team Building Game
Group Class
87% (261)
Trivia Game For Team Building
Group Class
93% (259)
Meet Amphy
The largest marketplace for live
classes, connecting and enriching
humanity through knowledge.
Explore Amphy
Find Online Teachers