Chess has a long and storied history. The first unofficial world champion was crowned in 1834, and the first official champion won his title in 1886. As chess has been around far longer than two centuries, it's challenging to include chess players from before this time. 
The chess world championships have been hosted by several organizations over the years, and in that time there have been several fantastic chess players. Here we want to look at the 12 greatest chess players of all time.
-> Play like a pro with a beautiful chess set. Click here to order now.
1. Garry Kasparov
Garry Kasparov is one of the most well-known chess players and is widely regarded as the greatest player of all time. He dominated the chess world for over 20 years and was the reigning world champion from 1985 to 2000. 
Kasparov claimed his title as World Champion in 1985 by defeating Anatoly Karpov, one of the best chess players ever. At 22 and a half, he became the youngest world champion of all time. 
Although Kasparov lost his title in 2000, he remained the number-one ranked player for most of his career until his retirement in 2006. He retired as the number one player in the world.
2. Magnus Carlsen
While Kasparov is widely regarded as the greatest player of all time, Carlsen is the most versatile player. He is the only player to be the world champion in standard, rapid, and blitz. He even held all three titles simultaneously in 2019.
Carlsen has been the number-one player in the world since 2011 and has been a dominant force since. He became the world champion in 2013, just before turning 23. This made him the second youngest world champion in history.
He also was the youngest player to reach the 2800 rating threshold, achieving the feet in 2009. Additionally, he has achieved the highest rating in history at 2889. In addition, he set a record for the longest undefeated streak in standard time controls in February 2020 at 125 games.
Chess has a long and storied history. The first unofficial world champion was crowned in 1834, and the first official champion won his title in 1886.
3. Bobby Fischer
Bobby Fischer is arguably the most well-known chess player of all time because he is the only American world champion. He won 20 consecutive games against world-class opposition in 1970 and 1971 and became the world champion in 1972. However, he did not defend his title because he failed to reach an agreement with FIDE.
Fischer is known for his originality and creativity. He showed an absurd understanding of positioning and inspired a generation of chess players in the United States. Many consider Fischer the strongest chess player at his peak, but his reign was short-lived.

4. Jose Raul Capablanca
Jose Raul Capablanca was the third official world champion and had an impressive record from 1916 to 1924. Although he was a great player in all aspects, he displayed a massive knowledge of the endgame. Even the latest computer engines have trouble poking holes in his endgames. Moreover, his knack for making chess look simple yet beautiful is revered to this day.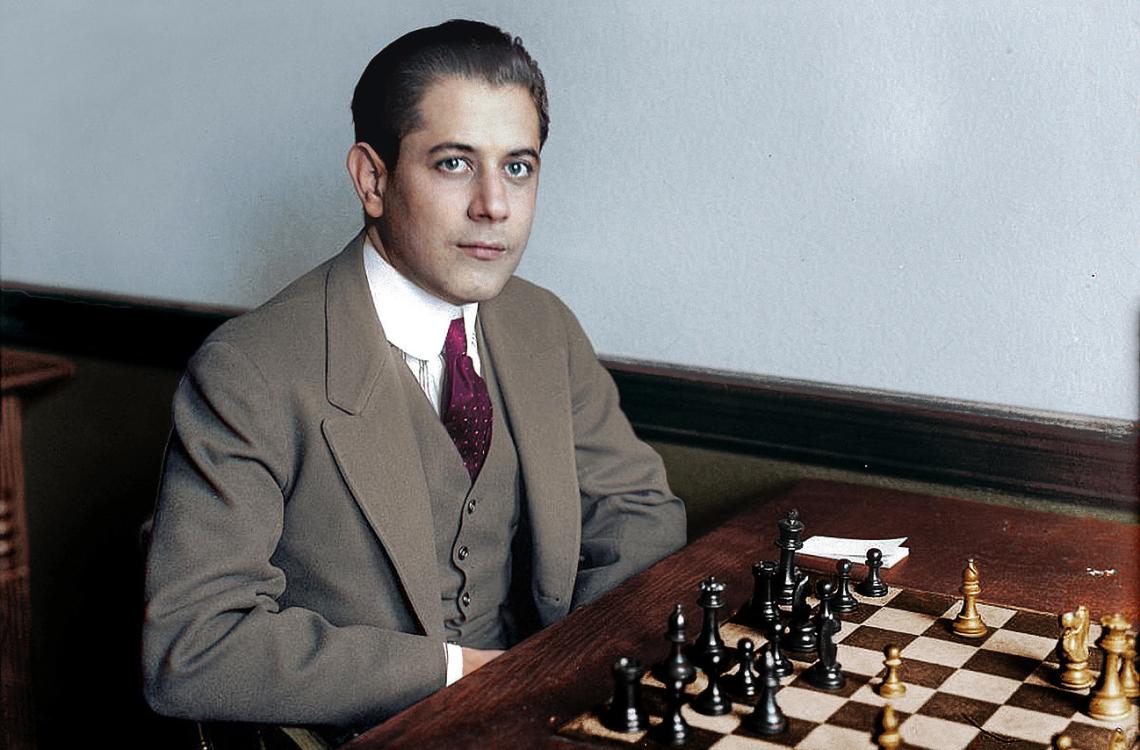 5. Anatoly Karpov
Karpov was the reigning world champion for ten years, and his run was only ended by the greatest player of all time. There is an argument he could have become the greatest player ever had Kasparov played in another era.
Karpov is known as one of the most well-rounded players ever. During his professional career, he was renowned for fantastic positional and endgame play.
6. Mikhail Botvinnik
Botvinnik was the sixth world champion and reigned for 15 years from 1948 to 1963. He was a top player for 30 years, making him one of the longest-lasting grandmasters ever. He was an extremely talented player who used logic and flexibility to dominate his opponents. 
Notably, Botvinnik was the mentor of several future world champions. He taught Karpov, Kasparov, and Kramnik in their youth.
7. Vladimir Kramnik
The aforementioned Kramnik was the world champion from 2000 to 2007. He was the man to finally dethrone Kasparov in 2000. Experts view him as one of the most ironclad players of all time, with no weak points in his game. He was a top player for 25 years before his retirement in 2019.
8. Emmanuel Lasker
Lasker was the second official world champion and had the longest reign of any officially recognized title holder. His run as world champion was from 1894 to 1921, but he was a top player for five decades. He was known for taking into account the psychological aspect of chess, such as playing even inferior moves if they caused discomfort to his opponents.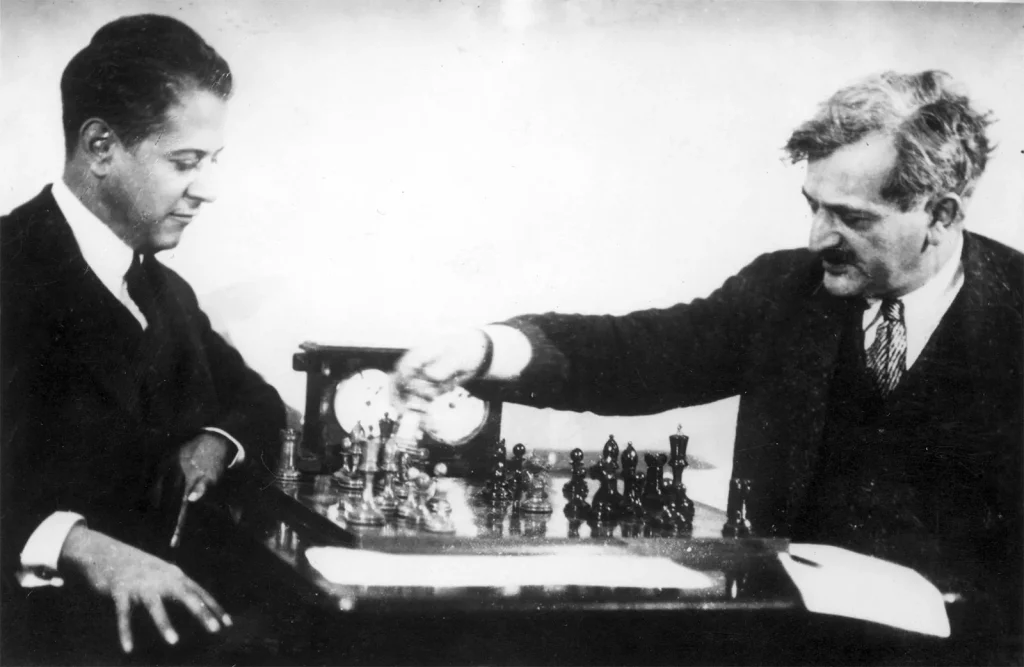 9. Mikhail Tal
Before Kasparov and Carlsen made their mark at 22, Tal was the youngest world champion at 23 and a half. He claimed his title in 1960 by using his signature attacking style. Due to his unpredictability and aggressiveness, he became known as the "The Magician from Riga."
10. Alexander Alekhine
Alekhine had two runs as the world champion. He held the title from 1927 to 1935 before losing it for two years. He reclaimed his title in 1937 and would never relinquish it. Alekhine sadly passed away in 1946 as the reigning world champion.
11. Viswanathan Anand
Anand was the 15th undisputed world champion from 2007 to 2013. Earning the monicker "The Lightning Kid," he is the best Indian player of all time that has inspired generations of his countrymen to play chess. As of 2022, he remains among the top 10 ranked players in the world despite being well into his 50s.
12. Tigran Petrosian
Petrosian was a unique world champion. He was a defensive player who famously used exchange sacrifices to get to the endgame quickly. In his prime, Petrosian was a four-time Soviet champion and held the world title from 1963 to 1969.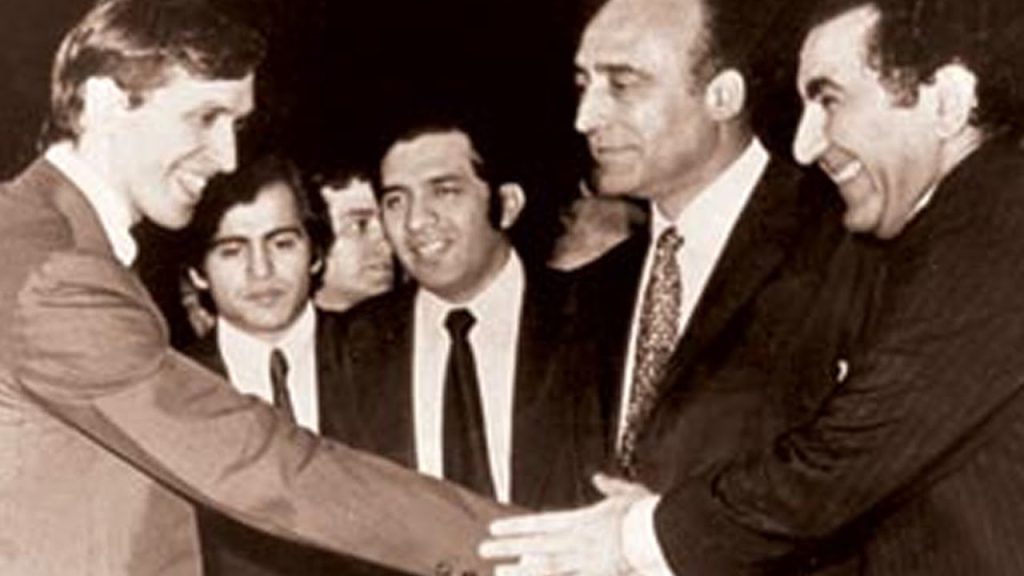 Chess is a game of the mind. To win, you must outthink your opponent. There are no tricks in chess, and the rules never change. So, there are few things more impressive in sports than becoming a chess world champion.
There have been several outstanding world champions over the years, and each of them left a significant imprint on chess that continues to influence the newer generations.
Related Articles
Top Chess Courses
Chess lessons by Fide trainer Darko Polimac
Group Class
94% (326)
Basics of chess – From Beginner to Grandmaster
Private Class
92% (238)
Meet Amphy
The largest marketplace for live
classes, connecting and enriching
humanity through knowledge.
Explore Amphy
Find Online Teachers