Why Corporate Workplaces are in Love With Amphy eLearning Marketplace
The largest player in online marketplaces for live eLearning and live streaming, Amphy, has a new target audience. The website is now placing a bigger effort towards the corporate world. This is due to the high level of interest for offices and CEOs to upskill and develop their existing employees. 
"We work with forward-thinking companies from around the world to create customized courses, lectures and team building activities to upskill, connect and engage their teams." (Kovi Fine, General Manager)
In addition to the amazing live & interactive online courses, experiences and events for individual customers, Amphy is also a first choice for workplaces. Companies are practically begging to work together with Amphy. They are in love with the customizable team building activities, lectures, and courses to suit every office's personal needs. The unbeatable user experience keeps teams coming back for more. 
How do they accomplish this you might ask? Amphy works with companies in multiple ways.
Virtual Team Building Activities
Amphy offers virtual team building activities like virtual escape rooms or get to know ya trivia games. As society adapts to the remote working model, companies' need to bond and feel connected as a team still exists. According to statistics, there's a 50% increase in employee satisfaction when the team is friendly with one another. 
Gone are the days of water cooler conversations. For some dedicated employees, the only contact they have with coworkers is in work-related meetings. They'll discuss the tasks at hand and say goodbye without ever getting to know the person that they work directly with on a personal level. That's why Amphy is providing remote workers and multinational teams a virtual way to bond. Amphy for Teams acts as a unique way for companies to come together. When done right, virtual team-building activities have positive effects on employee collaboration. Not to mention that since the start of the pandemic, 2,500% more companies have adopted the virtual team-building method. 
After receiving a large demand for business-related courses, lectures, and team-building activities, Amphy expands its B2B offering
Another popular choice for teams is the live courses available for employee training. This is the most popular choice in the effort to close the growing skills gap in companies. Outsourcing recruits for a new position is time consuming and expensive. The best resource a company could have is an employee that is already there.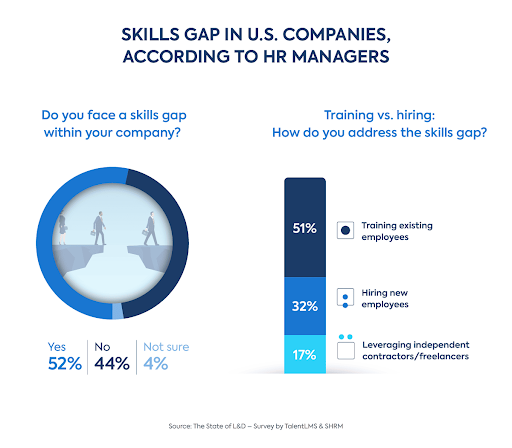 That's why more than half of companies prefer to close the skill gap by training existing employees. And what better way then to upskill employees with Amphy's virtual online live courses? These courses are tailor made for each company's needs, interactive, and add accountability pushing users to have a productive experience.
Live Lectures from Experts
When the corporate world has needs, Amphy is here to answer the call. In response to the growing demand, Amphy is now providing remote and location based offices with virtual lectures from experts in their niche. You can invite a virtual speaker for your next occasion. Whether you're looking to stay informed on current events and important movements, or virtually bring the team together for a special day, Amphy now has what you want. 
With the new B2B focus in place, offices all over the world can now order lectures from the virtual marketplace with ease.
A gift of appreciation is one of the most effective ways to tell employees that their hard work does not go unnoticed. And what better way to send bulk corporate gifts than with eGift cards? Amphy covers all of your corporate gifting needs with customizable gift cards redeemable on online courses, experiences and events in over 100 categories. It's a seamless gifting solution. It's a new way to universally incentivize and reward employees around the globe in minutes. 
Keeping employees motivated and happy is a huge need and challenge in the office. It is especially hard for those that work remotely. That's why Amphy gift cards have become a fan favourite for HR coordinators and office administrators when it comes to corporate gifting. Overcoming the challenge of showing appreciation from management doesn't have to be your biggest challenge. 
Gifting an Amphy gift card is easy. With flexible options like adding your company logo to the card's design, and the ability to purchase in bulk and save, you can give your employees and customers an unforgettable and enriching experience. Let them choose from an endless variety of live courses, experiences and events and give them the kudos that they deserve.
Finals Thoughts and Future Implications
This forward thinking and meeting the market's demands is exactly what you can expect from Amphy. Moving forward with the business to business mindset will bring growth and popularity to the online marketplace. Amphy is becoming extremely desirable and sought after in the corporate world. Whether it's for upskilling existing employees, bonding the team, corporate gifting, or virtual lectures, Amphy has you covered. You can expect to hear Amphy as a household name in both remote and physical location workplaces.
Amphy Software Update 2.0: The Ultimate Stay at Home Learning Platform
This year Amphy unveiled a bold new design and UI for the largest online marketplace for live virtual courses and events.
The colorful aesthetic and easy navigation make booking classes or virtual tours an absolute breeze.
Online Coaching App 'Learn to Win' Raises $4 Million in Seed Funding
Learn to Win, an online coaching app uses electronics to reach the younger generation where they are at to help them be successful. The app allows businesses, athletes, and the like to expand their training programs and process. The program recently received seed funding to increase publicity and extend its capabilities.
Top Team Building Activities
BINGO: Team Building Game
Group Class
87% (261)
Trivia Game For Team Building
Group Class
93% (259)
Meet Amphy
The largest marketplace for live
classes, connecting and enriching
humanity through knowledge.
Explore Amphy
Find Online Teachers